Mobile Working
In today's business environment, efficiency rules. Success demands cutting costs and maximizing profit while delivering a great product and providing excellent customer service. OSS Mobile Working Solutions maximises business process efficiency across your entire enterprise. Whether you intend to introduce a mobile data capture solution in the future or need to integrate your existing paper based processes, digital writing leverages your existing investment while simultaneously delivering the benefits of electronic data collection and processing. OSS mobile data capture solutions allows field staff to complete business critical information which is returned to your back office system without the need to physically return to base and manually data input your information, increasing speed and efficiency across any enterprise.
The Business Process Technology that delivers
Pen & paper
Work as usual. Pen and paper is intuitive, limited or no training of staff is needed. Everyone can handle a pen or a tablet. No need to change work routines or existing forms processes.
Enables digital capture of both text and illustrations.
Cut lead time from days to minutes or seconds.
Low investment cost, fast implementation, easy scalability and flexibility.
Data processed as it happens, no costly peak hours.
Immediate return of investment.
Eliminating or automating processing steps means significant cost savings.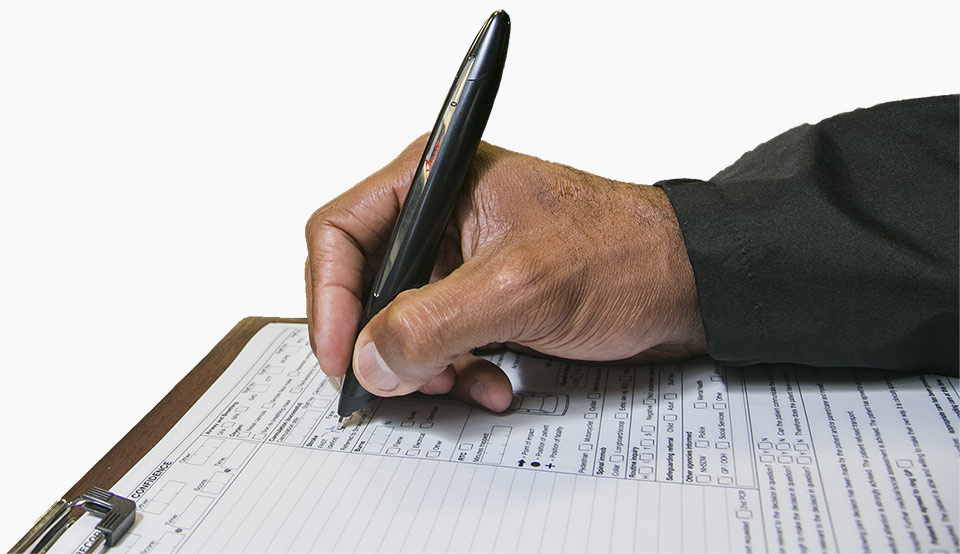 Anoto Live Pen 2
We officially support Anoto Live Pen 2. It's the first Anoto pen that works with Apple iPhones and iPads together with our app Formidable for iOS.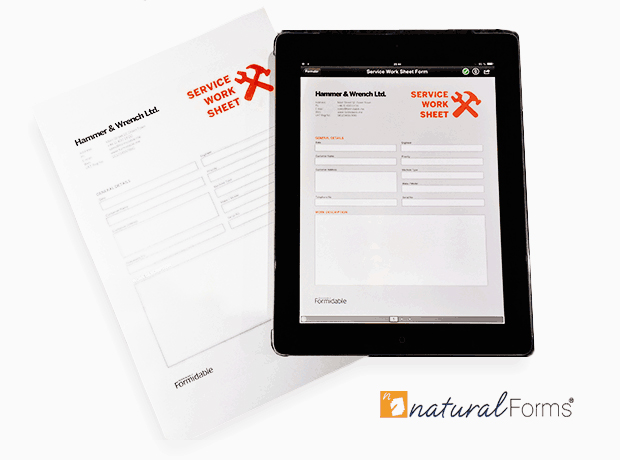 Tablet
Upgrade your paper forms to tablet and save money. Make your current paper forms electronic easily with naturalForms Enterprise. Works with both iPad and Android devices by installing the app naturalForms Enterprise. The app offers multilingual handwriting in 54 languages and e-keyboard data entry giving users localisation, choice and flexibility.
Write, sketch, and sign on the tablet version of the form as you would on the paper copy. Optionally, add photos, voice recordings, GPS coordinates and submit the form. No signal – no problem – naturalForms Enterprise stores them until signal comes back.
Write naturally in 63 languages.
Works for both Apple iPad and Android tablets.
Write, sketch, and sign on the tablet version of the form as you would on the paper copy.
Use your current paper forms, same layout as your staff is used to.
Instant feedback to customers and business partners.
The digital pen: Familiar, yet far more functional.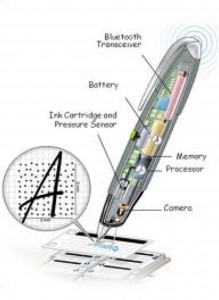 While the Digital Pen looks, feels and writes like a normal ballpoint pen, it contains an integrated digital camera, an advanced image microprocessor and a mobile communications device for wireless connection.
It's a pen with power.
Using the digital pen you can capture, store and then securely send handwritten information from any surface, enabling you to easily convert ink to digital data…instantly. A picture is worth thousands of words, and a whole lot of time and money. Digitally capture every pen stroke, ensuring speed, accuracy and savings. In combination with a Microdot patterned surface, the digital pen starts digitising handwritten text the moment you put pen to paper. The pen reads and records pen strokes in relation to the barely visible Microdot Pattern for precision data capture in real time.
It's fast. It's accurate. It's amazingly efficient…and that saves you money.
As you write, the built-in optic lens automatically takes digital snapshots of the microdot pattern at a rate of between 50 and 100 images per second. Every snapshot contains enough data to enable the pen's image microprocessor to determine the exact position of the digital pen, and to capture everything it writes or draws…like magic. No scanning, copying or rekeying handwritten information ever again.
Accurate and accountable.
Every bit of data captured has a unique identity. In addition to capturing the coordinates that enable the accurate capture of handwriting, the digital pen encodes key data about the handwriting context. This includes the exact time it was written and the identity of the writer, as every digital pen has a unique pen ID, which is included every time data is sent from the pen. The pen data also includes details on the specific paper form and page. All captured data is retained in the pen's memory. The digital pen can store up to 50 full A4/Letter size pages of handwritten data. With the handwritten form or document completed, and pen data captured and stored, the user is ready to transfer data from the pen via Bluetooth or USB.
The Pattern

software modules convert virtually any surface into a "digital surface" by covering it with the Microdot Pattern.
Do you see what the pen sees? Probably not.
Almost invisible to the naked eye, the patented Microdot Pattern consists of numerous intelligent black microdots that can be read by the "eye" of the Digital Pen. When captured through the pen's built-in optic lens, the pattern indicates the exact position of the digital pen as it moves across the surface. These snapshots are taken up to 100 times per second and ensure fast and accurate data capture every time.
Almost any surface can be easily digitised with the Microdot Pattern. This pattern ensures the pen accurately captures any written information as digital data that can be transmitted, processed and accessed instantly. That is writing live.
The magic of microdots… the pattern indicates precise position.
Each tiny area of the microdot pattern has a unique combination of microdots with different reference positions. When the user writes on the surface, the digital pen captures information about what the user writes and where, by registering the pattern near the pen tip. The information is saved in the pen electronically and is immediately ready to be sent or downloaded as digital data.
Digital paper becomes on-site reference.
Digital Pen technology allows information to be simultaneously recorded in both written and electronic form. For example, once a paper has fulfilled its role in digitizing handwritten text, it becomes a conventional paper copy, and it can be left at the job site for reference or as a receipt, when required. Using Digital Pen technology also eliminates the possibility of losing important written information in the time lag between writing on site and manually inputting the data on a system back at the office.
Transfer of Data From Pen

From anywhere to anywhere, anytime: Transmit and access your digital data instantly.
The digital pen user transfers data in one of two ways:
1. Wirelessly, by ticking a box on the paper (or other patterned surface), interpreted by the pen as a "send" command, the pen will use Bluetooth to instantly send data via a mobile phone.
2. Or via a USB port, by connecting the pen to any PC via USB port.
Sent data is in proprietary PGC format and can either be handled locally or routed to the application server associated with that specific document for further processing.
The application receiving the PGC data extracts all information using an Application Programming Interface (API). The APIs are available both for PC and server environments. The pen data includes all information about the pen strokes written on the page, including: The location (coordinates for each pen camera snapshot taken by the pen); Exact time of when they were written; Who wrote them; The identity of the paper form and of the specific pages.
Data may be exported in any preferred format to suit the recipient system. Typically, data may be exported as a picture (for example, in .GIF format), but most often it needs to be translated into letters and digits by character recognition software. This requires, for example, an .XML file as an input. Finally, data can be integrated into the enterprise's back-end system for further processing and automation of subsequent procedures.
Tablet
Pen or tablet, the choice is yours. Form design is available for both pen and tablet so once your form is designed it can be utilised in one or both applications. Works with both iPad and Android devices by installing the APP.
Write, sketch a sign on the tablet just as you would on paper. You can add photos, voice recordings, GPS Co-ordinates, date and time stamps. Can be processed in real time or alternatively stored securely on the device until a connection is available.
Works for both Apple iPad and Android tablets.
Write, sketch, and sign on the tablet version of the form as you would on the paper copy.
Use your current paper forms, same layout as your staff is used to.
Instant feedback to customers and business partners.
Write naturally in 54 languages
Professional look to impress clients and patients
Seamless integration to your backend solution
Verify and validate
App Localization
Access menus and keyboards and view handwriting interpretation in your native language, enhancing usability. Localization is currently available in Dutch, English, French, German, Italian, Portuguese, Russian, Spanish, and Swedish.
Auto Fill Fields
Auto-fill content from one location on a form to additional areas.
Calculations
Set up automatic calculations between fields or across multiple pages of a form.
Checkboxes & Radio Buttons
Naturally and seamlessly interact with checkbox and radio button fields.
Conditional Mandatory
Enforce mandatory capture based on the dynamic input of a checkbox field with conditional mandatory
fields.
Date & Time Wheels
Quickly and efficiently enter date and time values using built-in date and time wheels.
Electronic Signature Capture
Capture handwritten signatures in real-time.
Email, Print, Dropbox
Print and email forms directly from the application or export a PDF to Dropbox.
Field Validation
Use field validation for data such as telephone numbers, date and time, or quantity to ensure data is collected accurately.
Flexible Form Options
Users can select and personalise forms from our repository or upload your own forms to automate any business workflow.
GPS Coordinates
Capture GPS coordinates for enhanced operational control.
Natural Data Capture
Easily and efficiently complete forms using natural handwriting input (printed and cursive), and a virtual keyboard.
Option Lists
Choose from a selection of predetermined values to ensure quick and accurate input.
Photos & Annotation
Take a photo with the device camera or select a photo from the camera roll, annotate as needed and attach to the form.
Seamless Integration
Integrate seamlessly to your backend systems
Standard File Formats
Send data wherever you need it in standard file formats such as PDF, XML , etc.
Voice Capture
Record a voice memo and attach to the form.
Vision Objects MyScript v. 5.1
Which includes Languages and Alphabets that covers most of the world.
54 Languages
(full set of alphabet and intelligent linguistic resources for recognition)
Arabic
Armenian
Azeri
Basque
Bulgarian
Catalan
Chinese (Simplified)
Chinese (Traditional)
Croatian
Czech
Danish
Dutch
English (Canada)
English (GB)
English (US)
Estonian
Farsi
Finnish
French (Canada)
French (France)
Galician
Georgian
German
Greek
Hebrew
Hungarian
Icelandic
Indonesian
Italian
Japanese
Kazakh
Korean
Latvian
Lithuanian
Malay
Norwegian
Polish
Portuguese (Brazil)
Portuguese (Portugal)
Romanian
Russian
Serbian Cyrillic
Serbian Latin
Slovak
Slovenian
Spanish (Mexico)
Spanish (Spain)
Swedish
Thai
Turkish
Ukrainian
Urdu
Vietnamese
Alphabets
88 writing styles which includes isolated writing style, has support for boxed fields and contains country-specific sets of characters, numerals and symbols.
Alphabets are categorized into:
Arabic
Chinese
Cyrillic
Devanagari
Greek
Hebrew
Japanese
Latin
Tamil
Thai
Formidable is a powerful, easy-to-use forms processing software that helps you capture your forms data faster than ever. Thousands of people in business, government, and education use Formidable every day to manage their forms with help of digital pens and tablets. Formidable comes with many easy-to-use tools for development, administration and processing of digital pen and paper forms as well as tablet solutions to help you quickly manage your forms. Check out what Formidable can do for your business.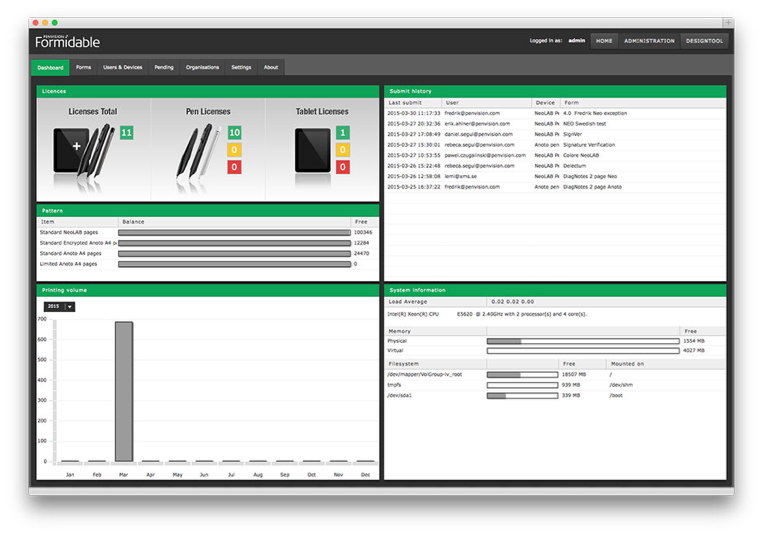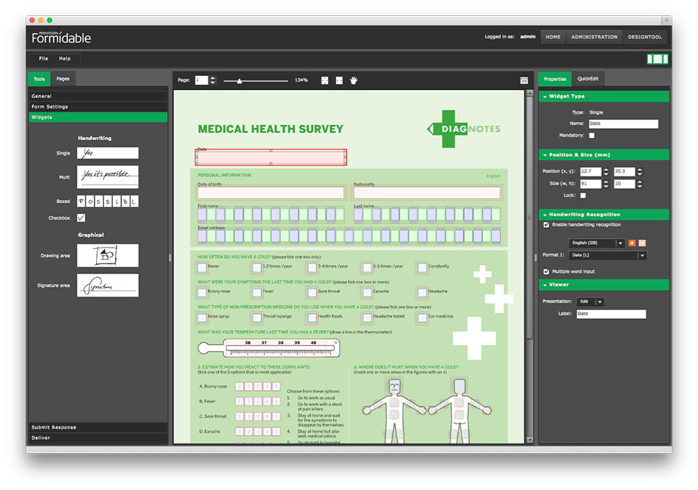 Formidable is complete
Easy to use DesignTool with seamless integration of handwriting recognition tools. The great Administration interface where you have full control of applications, users and pattern. Print out forms with the PrintProcessor and get full access of the final result with the included Viewer.
Easy-to-use administrative interface for users, applications and pens.
Handwriting recognition for 30 languages and 88 alphabets.
PC and mobile phone clients available to download at App Store and Google Play.
Validation interface for visually checking and editing the final result from the forms.
You don't have to choose. Create your forms in Formidable and print on paper or open on an Apple or Android tablet and submit. The Formidable server stores it all.
DesignTool
Our design tool is a Flash based web application to enable digital writing functionality. DesignTool ranges from uploading backgrounds, enabling form field functionality to specifying validation and export. The only requirement is a web browser.
Formidable app
Formidable app is the client software that is used to send the digital pen data from paper forms into Formidable. The Formidable clients are tightly integrated and allows for two-way communication. The app is available for iOS and Andorid phones and tablets as well as Windows PC.
Handwriting recognition
Formidable includes a seamless integrated version of Vision Object's MyScript including 54 languages and 88 alphabets. Easy-to-use formats allow the designer to select from predefined rules for the writing fields.
PrintProcessor
Printing is done through a locally installed Windows based software. Multiple print processors can be connected to the same Formidable system for smooth deployment of the forms.
Viewer review & edit
A validation interface is included in Formidable. Applications can be created to automatically support review & edit functionality before exporting the final result. Users are automatically notified with user details allowing for a minimum of administration.
High quality output
The final output is high quality vectorised pdf's and xml-files suitable for any back end system of your choice.
Administrative web interface
Easy-to-use administrative Flash based web interface for users, applications, patterns and pens. Handle everything from one browser window.
Pre-population
Print pre-populated data from backend systems with Formidable. The fine part is that you enable the connection in the DesignTool in a really nice WYSIWYG interface. Control placement, fonts and size in DesignTool and see the result direct on your screen.
Local or hosted Formidable
Formidable can either be locally installed on your own network or hosted by OSS
Custom API
On top of the standard functionality API's are available for custom functionality.
Tech Specification
Formidable Server 4
OS: RedHat Enterprise Linux 6 or CentOS 6 64-bit.
Find certified hardware directly from the RedHat certified hardware site.
A reference implementation contains the following hardware:
Processor: 2 x Intel® MP Xeon™ 2,5GHz processor
Memory: 8GB
Hard drive: 73GB SCSI
1 Ethernet card
PrintProcessor
Windows XP/Vista/7/8 32-bit
Windows XP/Vista/7/8 64-bit
Postscript Colour laser printer
preferably from OKI
Formidable apps
Formidable apps for iOS, Android and Windows PC. Get the apps here:

Previous generation of the client PenPusher available for Android, Symbian S60 3rd edition, J2ME, Blackberry, Windows Mobile 6, Windows PC XP/Vista/7/8.
Supported pens
Anoto Live Pen 2
Anoto Digital Pen DP-201
Anoto Digital Pen Io2 Bluetooth
Anoto Digital Pen Io2 USB
Maxell DP-201
Supported tablets
iPad and Android tablet with naturalForms Enterprise.
Get it for iOS here: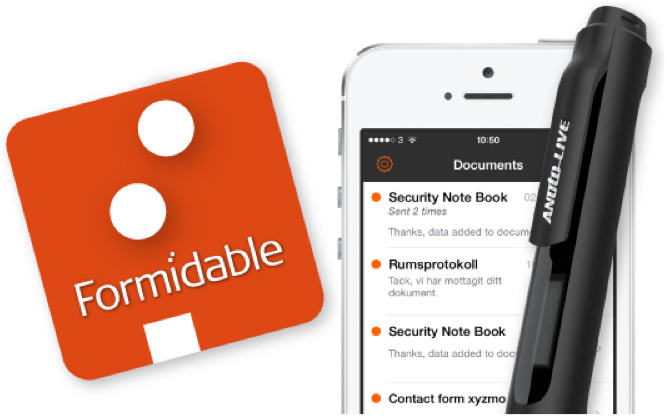 Formidable for iOS and Android
Formidable is the first client app for iPhone and Ipad that works with the new Anoto Live Pen 2! Beside grabbing yore pen data, the Formidable app also allows you to attach images and sound files to your documents, even GPS coordinates!
Formidable for iOS – Works with Anoto Live Pen 2
Formidable for Android – Works with both Live Pen 2 and Anoto DP-201
Formidable for Windows PC
Not every user needs a pen connected to a phone and some environments don't even allows it. For that we have Formidable for Windows. Dock the pen in the cradle and all the data stored in the pen will be transferred to the Formidable server automatically.
Formidable for Windows work with pens from Anoto
For Windows PC 7 and above.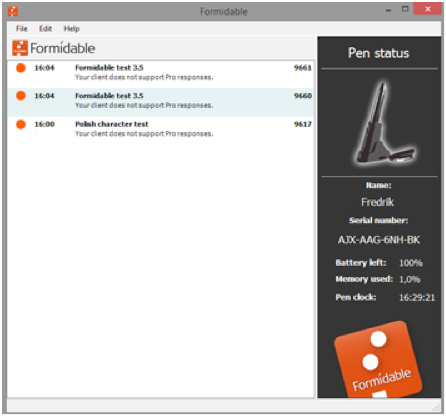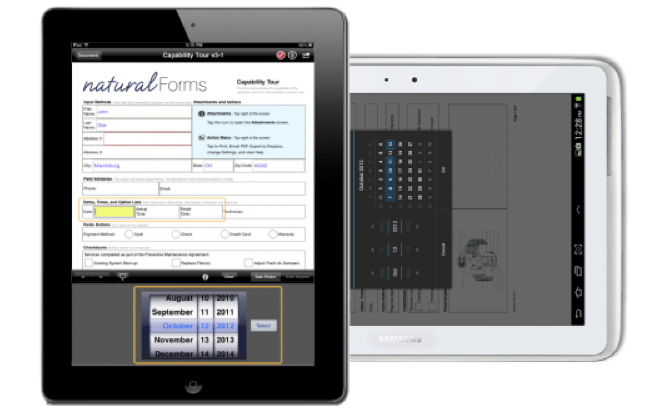 NaturalForms Enterprise for iPad and Android tablets
With Formidable and naturalForms documents can now easily be converted and filled in on a tablet instead of paper. Cost is reduced while business can be done faster. When staff is on the field, the information can be filled in directly on the tablet, and complemented with photo attachments and voice notes. The forms are sent digitally via Wi-Fi or cellular network and thereafter automatically to an ERP system.
Works with iPad and Android Tablets
Recognize handwriting or use the keyboard
Attach photos, sound memos and GPS coordinates
Find Us
On-Site Scanning
Units 1-2, Building C,
Kelburn Business Park,
PORT GLASGOW,
PA14 6TD
Tel:
01475 648212
Accreditations
Registered under the Data Protection Act 2018
Registration Number Z2115224